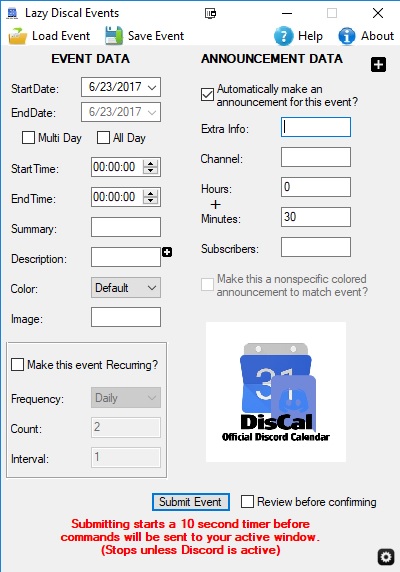 About Lazy DisCal
Lazy DisCal is an application scripted by Callador using Auto Hot-key. This application helps to make it easy to create events, announcements, and calendars for DisCal with a very simple and easy to use GUI.

Built for one purpose: Making your life easier by remembering all the DisCal commands for you! Can't remember what format to put your start date? No problem!

All you have to do is fill out the various fields in LD and then click one of the submit buttons. LD will wait a few seconds for you to bring up discord and then send all the appropriate commands to your channel for you.

It supports saving and loading of events as text files for quick event creation. It can build events and announcements separately or together and has the capability to build up to 50 announcements at one time.
Windows
---
*Note: until Lazy DisCal is developed for linux/mac you can run it via Wine.